Nomad 100AH PDU - V5 - Lithium Power Unit


 
A truly portable dual battery option that can be secured in the vehicle but more importantly,  easily removed at your campsite. This one of the most sort after recreactional power supplies on the market.

The unit boasts Maximum output across the unit at any time is 20amp, with reverse polarity and dead short protection.
Specifications
1 x Voltage Disply and 1 x Draw or Amp meter for easy read 
2 x 10amp Ciga Socket Outputs
1 x 10amp Enegel Output
1 x 20amp Anderson output
2 x 2.1mm (10amp lighting jacks)
1x Dual USB
Charge by Unregulated (Max 10amp) or Regulated (Max 25amp) solar.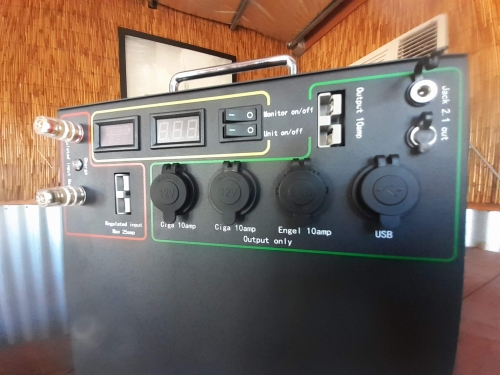 Unit has an optional 8 Amp ACDC charger, or DCDC In Car Lithium Specific 10amp charger kit which includes .
all the heavy duty wiring, fuses, Andersons and Lithium Charge Module -DIY or have yourelectrician install.
You may choose to add a VSR (Voltage Sensitive Relay) which will disconnect the dual when the car is turned off.
Need Advice? CALL (08) 9248 9722 to speak to one of our experienced staff.