 Car Batteries Perth | Boat Batteries Perth
Our Flagship Brand, "Titan" is suitable for Automotive, Marine & Deep Cycle Purposes.
"Batteries (WA) Pty Ltd" has a strong affiliation with "Sealed Performance Batteries"& "OzCharge", proudly being their West Australian Distributor with products such as the PowerSonic AGM, Gel Deep Cycle & Motorcycle products. OzCharge Product available include AGM & Gel Batteries, a full range of Chargers & jumper packs. Other OZcharge products are also available on request.
We also carry "Optima & Deka Sports Power & a range of Lithium" products for those extreme, high power circumstances you may encounter.
Other related quality products such as Battery Chargers, Inverters, Jumper Packs, Solar Panels & Dual battery setups are also available.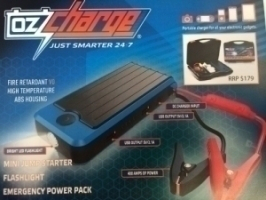 Mini 12volt Jump Starter &
Portable Power Pack / Charger
Special offer - 10% off !!!
Powersonic VRLA AGM
PS-1270, 7 AH AGM Batteries $38.00 !!