CAR BATTERY REPLACEMENT | CAR BATTERIES PERTH

Are you looking for a perfect place where you can buy car batteries? Finding the right car batteries dealers that sells genuine and quality car batteries can be very challenging. If you want long lasting high quality batteries then this is the right place for you. The following are some of the reasons why you should not hesitate to use us for car batteries Perth.


We are a leading supplier of genuine and quality batteries that will reliably serve you for a long time. Our batteries are tested, approved and meet the Australian Standards.

Battery Replacement & Emergency Roadside Assistance

We also offer car battery replacement services at affordable pricing. We are licensed and accredited to deal with a wide array of car batteries and other products. Our Flagship Brand, "Titan" is suitable for Automotive, Marine & Deep Cycle Purposes.

Choosing the Right Car Batteries in Malaga

"Batteries (WA) Pty Ltd" has a strong affiliation with "Sealed Performance Batteries"& "OzCharge", proudly being their West Australian Distributor with products such as the PowerSonic AGM, Gel Deep Cycle & Motorcycle Batteries.
OzCharge Product available include AGM & Gel Batteries, a full range of Chargers & jumper packs. Other OZcharge products are also available on request.

We also carry "Optima & Deka Sports Power & a range of Lithium" products for those extreme, high power circumstances you may encounter. We at "Batteries WA" provides excellent car battery replacement services. Other related quality products such as Battery Chargers, Inverters, Jumper Packs, Solar Panels & Dual battery setups are also available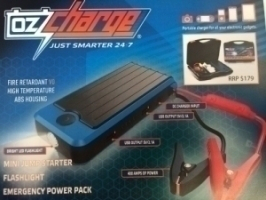 Mini 12volt Jump Starter &
Portable Power Pack / Charger
Special offer - 10% off !!!
Powersonic VRLA AGM
PS-1270, 7 AH AGM Batteries $38.00 !!